"Safety" is the standard for choosing the steam generator.

Naomoto steam generator has renewed with its original high-quality and powerful steam.
It became more compact size & new function "automatic draining system"has been added.
Performing maintenance will be easier & safer than it's used to be.

Automatic draining system makes no worry
about getting scalded.
Naomoto safety steam generator has been added new function "automatic draining system". Automatic draining system will remove your worry about getting scalded while draining process.

Just one press.
Then the automatic draining begin.
Just need to press the button on the operation panel. Any operator can start automatic draining. This function release you of annoying draining process when you finish using or before using it.

*110V & 220V power voltage available
*Compact design. Fitting any location even under the ironing table.
*The Caster wheels help to move easily.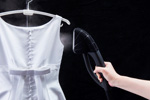 *Steam Brush
Useful for the various application such as finishing for the dress, suits, high-quality products. Also touch up finishing partially for wrinkles and shrinkage.
Can be used the brush by the garments hanging on the hanger.
NBN-114Sa / NBN-115Sa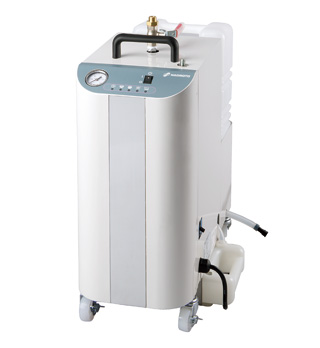 NBN-115Bb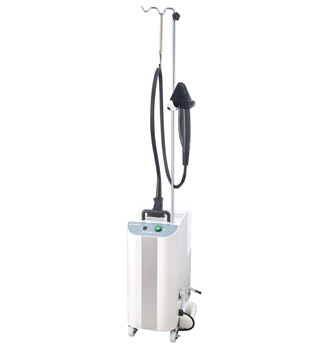 Model
NBN-114Sa
NBN-115Sa
Rated pressure
0.2MPa
Rated Voltage
220V single phase
240V single phase
220V single phase
240V single phase
Electric consumption
1.8kW
2.2kW
2.7kW
3.3kW
Evaporation rate
2.7kg/h
3.3kg/h
4.05kg/h
4.95kg/h
Water feed method
Cartridge water tank method
Machine dimension
W310 x D505 x H645 mm
Machine weight
24kg
Condensate return not included
Electric steam iron(only inline pressing)

1 set

2 sets
Electric steam iron(only Finishing pressing)
1 set
1 set

Brush type
Model
NBN-115Bb
Rated pressure
0.25MPa
Rated Voltage
220V single phase
240V single phase
Electric consumption
3.06kW
3.66kW
Evaporation rate
4.05kg/h
4.95kg/h
Water feed method
Cartridge water tank method
Machine dimension
W310 x D505 x H590mm (Main machine)
W310 x D505 x H1460~1850mm (Tip of the pole)
Machine weight
24kg(Main machine), 26kg(brush, pole set)